WELCOME TO PUPS ARE US CUSTOM SCREEN SAVERS
All screen savers are half price! Give them for Holiday Presents!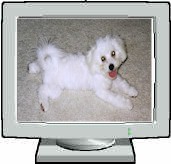 We can take your FAVORITE photos and turn them into a
GREAT SCREEN SAVER or WALLPAPER.
Now you can take your pets to work and your BOSS won't mind!!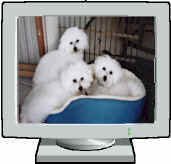 The cost for a SCREEN SAVER is :
---
Prices
$3. for 4 pictures
$5. for 6 pictures
$7. for 8 pictures
$9. for 10 pictures
$2. for shipping
You can also make any of the photos used in your SCREEN SAVER into WALLPAPER for your computer.

SCREEN SAVERS make GREAT GIFTS!

You can send your PHOTOS

(we will return all photos with screen saver)

to PO BOX 1832, SPRING VALLEY, CA 91978

We can also make WILD LIFE, DOGS, CATS, or OTHER ANIMAL SCREEN SAVERS. You tell us what you want on your SCREEN SAVER and how many photos you want on it and we will create it for you for the same price.

Please let me know if you like our Web Site. We can do one for you too!



Nice Kitty!

HOME, ABOUT PUPS ARE US, BREEDS, DOG TIPS,
PUPS FOR SALE, PHOTO ALBUM, LINKS, Pet TalkPET SUPPLIES,