FLEAS

a.) One of the best things we have found for fleas is using products that have EUCALYPTUS, MELA LUCAor NEEM in them. Those products repel feas and kill the ones that on pet when you wash them. They are not harmfull to your pet or you. We use KOALA LEAF Shampoo by Kelco. (which can be ordered through us) It has skin conditioners in it for healthy skin and coat too.You can also buy Eucalyptus oil and add it to your pets shampoo or put a little on your hands and rub it on your pet to keep Fleas away.

b.) If you use a flea collar many of them can be TOXIC when they get wet. We recommend ONLY USING ALL NATURAL flea collars. The Eucalyptus or Pennyroyal or other natural collars are not harmful to your pets even puppies and kittens.

4.) THINGS THAT ARE TOXIC

a.)Here are some plants both indoor and outdoor that are toxic.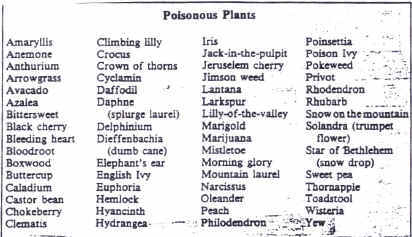 b.)Many fluids are TOXIC to pets such as WEED KILLER, RADIATOR COOLANT,( any automotive fluids can be faitel to your pet if they come in contact with them) Take your pet to the Veterinarian IMMEDIATELY!
c.)Chocolate is also TOXIC to your pet! Do not give your pet any Chocolate. If your pet gets a hold of some chocolate watch your pet carefully, if you notice any changes in your pets behavior then take the pet to the Veterinarian IMMEDIATELY !
d.) Onions are also TOXIC to dogs. It can cause ANEMIA. Even foods cooked with onions can be TOXIC.




5.) HOUSEBREAKING

The only way to train a new puppy is by using a CRATE. Use an ordinary airline crate. You want one that is not too large. It should be big enough for the pet to sleep and move around but not sleep in one end and go to the bathroom in the other end. Develop a routine and stay with it. Put your pet to bed at the same time each day and wake him up the same time each morning. Put your pet outside before bed and first thing in the morning EVERY DAY THE SAME TIMEAlso remember you need to put your pet out 20 to 25 minutes after you feed them. While you are training your pet do not free feed them, that makes it harder to monitor the pets behavior .and teach him to go to the bathroom outside. Here is another site that has alot of great information on Crate training and other training www.learn-dogs-puppies.com



6.) DISASTER PLANING FOR YOUR PET
Here is a list of things to pack for your PETS DISASTER PACK. We pack things for ourselves but we don't always think about what to pack for our pets. Here is a list.
7.) SPAY & NEUTER

One of THE most important things to do with your pet is to
SPAY OR NEUTER
them. Studies have shown it DECREASES the chance of CANCER by 90%,. If you NEUTER a male pup at 5 months or younger they won't mark territory or lift their leg on things. They also heal faster when they are neutered or spayed young. It also can mellow him a little and he is similar to having a female pet. Sometimes the males are MORE lovable!

Here is a list of more reasons to

SPAY & NEUTER your pet.


Digging
If you are having problems with your pup or dog digging in the yard or garden there are a couple of things you can do.

1.) You can put pepper in the hole so when he goes to dig again he sniffs the pepper and quits digging.
2.) You can also put his poop in the hole and lightly cover it and he will not dig there again. (Both of these work most of the time.)
Barking,
If you are having trouble with barking we use a devise called "The Barker Breaker". It is a small box that emitts a high pitched tone that bothers the dog and makes him quit barking. You reinforce the tone with a loud "NO" and soon he will quit barking. You can also set the "Barker Breaker" to work when you are not at home too. We rent out the Barker Breaker for $15. per month. (It usually only takes 2 weeks to a month to stop the dog from barking. Some dogs respond more quickily.) You can also purchase them at Pet Stores or through us. We sell new or used ones.
Here is something I found that I think everyone should read and think about before they purchase a puppy.